Reposting this on
myska_x
's behalf. Take a few minutes and have a look.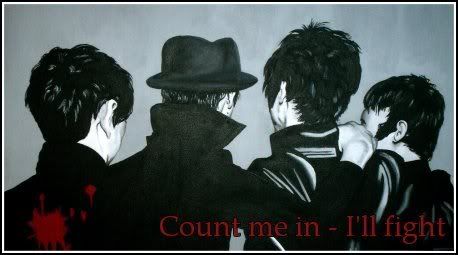 It's easy to pretend things aren't happening when you can't see them, and especially when they're not happening to us directly. LMHR continues to bring to our attention the reality of what's going on with the BNP, and how they prey on some of Britain's most troubled areas. We should listen to LMHR and feel a duty to use what we have to react to help send a unified message to the BNP - Britain is a multicultural society and that's how we like it.
-Drew McConnell, Babyshambles
I don't think you have to be a particularly developed human being intellectually or spiritually to despise racism. It may be easy to be complacent, but we need to encourage people to fight racism whether with words or actions. Count me in – I'll fight!
- Peter Doherty, Babyshambles
"Love Music Hate Racism Carnival 2008 – Rock Against Racism 30th Anniversary" promises to be LMHR's biggest event yet. It celebrates 30 years since the famous Rock Against Racism carnival, which also took place in the Victoria Park and was played by The Clash, Steel Pulse and other legends.

Our carnival will see all kinds of musicians uniting against racism and fascism – creating a diverse and vibrant mix of music. There will be a lively carnival procession through London beforehand.
Love Music Hate Racism Carnival 2008 - an event many of us are looking forward to - is still in need of donations. In an attempt to raise money for the event
myska_x
is putting the following two paintings up for auction on ebay.
The full amount raised will go to LMHR.
Peter Doherty with Guitar - Acryl on Canvas (35x28cm/14x11inches)
On Ebay
Babyshambles - Acryl on Canvas (50x40cm/20x16inches)
On Ebay